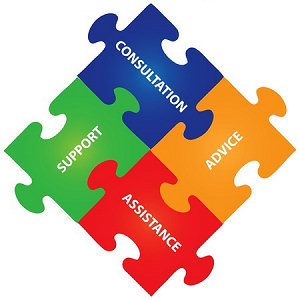 Below is a list of our most frequently asked questions (FAQs). If you have others or would like more information – please contact us.
What process do you use in Financial Planning?
Once a client chooses us as their advisor, we manage a six-step process to assist them in achieving financial peace of mind:
Identify and Prioritize Goals and Objectives. The first step is to discuss our client's financial priorities and risk comfort level to determine a well-defined scope of engagement and a clear plan of action.
Gather Data. The second step is to review our client's financial history, including investment account statements, estate planning documents, insurance polices, tax returns, etc., to get a more accurate picture of the client's current financial situation and to explore additional planning opportunities.
Analyze and Evaluate Alternatives. The third step is to come up with different financial options to specifically meet the client's goals and objectives. We extensively review investment options to find the best, low-cost financial products and services for our clients.
Make Recommendations. The fourth step is to discuss and explain recommended strategies, making the complex world of finance more manageable and less overwhelming. We then collaboratively develop an implementation plan and confirm with the client that required steps are achievable.
Implement The Plan. The fifth step is to execute investment plan, including management of portfolio trades directly, using independent, third party custodians. (Note: we never have personal access to client funds.) We also make referrals to qualified professionals in specialized fields, such as law, accounting and trust administration.
Monitor and Review. The sixth step is to monitor and rebalance investments and discuss new planning opportunities derived from changes in tax laws, financial markets, and planning tools to maximize returns and manage risk. We review all portfolios quarterly and encourage clients to meet with us at least annually.
What are the benefits of using a fee-only planner?
Because fee-only advisors receive no commissions, they have no incentive to use products or service that their clients don't need. For PWJohnson Wealth Management, all of our fees are calculated into the net return reported to the client so we report the return the client actually received.
What types of investment do you recommend to your clients?
The majority of our investments are done through no-load mutual funds rather than investments in individual stocks because of these advantages:
Target investments to a specific asset class based on the objective of the fund.
Greater diversification and lower risk because of larger number of stocks in each asset class.
A professional manager dedicated to maximizing the funds' performance regardless of investment.
The ability to spread administration and trading costs over a large number of pooled investors.
What other services do you provide?
We take a holistic approach to a client's financial health and needs, including investment management, retirement planning, college funds, stock option strategies, insurance needs, estate planning assistance, and an evaluation of different tax options. No financial question or situation is out of bounds!
Who is your typical client?
Our clients typically have in excess of $1MM in investable assets or have an average family income greater than $250K a year. We work best with clients who want to be interactive and integrate all aspects of their financial lives into one strategy. We will help a client balance a variety of investment, retirement, college funding and estate planning issues into one coordinated plan.
What can I expect to pay?
We are a fee only firm – we do not receive commissions and are not limited in the investments that we can offer. Our Fee Structure:
Management fees are paid in advance at the beginning of each quarter. They are assessed based on the account value on the last business day of the month before the new quarter begins.
FIRST $500,000 is billed at 1.25% (up to and including $500,000)
NEXT $500,000 at 1.00% (up to and including $1,000,000)
NEXT $4,000,000 at 0.75% (up to and including $5,000,000)
How can I get more information about PWJohnson Wealth Management?
We provide the following documents to prospective clients as a factual representation of our business. When comparing financial planning firms, you should request these document to aid you in comparing your alternatives: PWJWM ADV Part 2A – 2017 (PDF, 768K) Privacy Article (PDF, 86K)PWJohnson Wealth Management and its principal partners have a long standing history of service in the local community and in the professional financial community. You can find some of this information by searching the Internet. Google Search
back to top